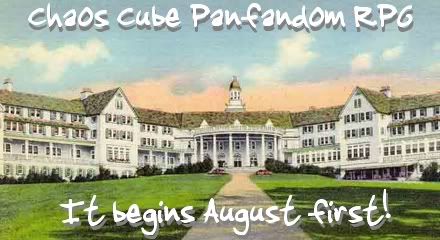 APPLICATIONS ARE OPEN NOW!! CLAIM YOUR CHARACTERS EARLY, SO YOU CAN START PLAYING RIGHT AWAY!
Go here to check it out!!
It looks like an ordinary wooden box. You open it up, and find a puzzle inside. Tip it over, and it falls into 13 uniquely shaped pieces that can be put together to form a cube. It's not as easy as it looks. You have found a Chaos Cube! Even though there are over 19,000 different ways to solve the puzzle, you may need to be a genius to discover just one of them.
Once you solve the puzzle, you will find yourself unexpectedly transported to a new place (along with anything and anyone touching you or the cube at the time).
Where are you now? You're Here.
A sprawling estate, Here is nestled in a valley surrounded by mountains. There are extensive grounds, a small lake, and lightly wooded areas. There are acres and acres if land to explore! There are recreational areas: archery range, tennis courts, and stables, nine-hole golf course and driving range, indoor playground and outdoor playgrounds children's playgrounds, indoor and outdoor pools and more.
In heart of Here, there is The Residence. A lavish apartment building with hotel-style living and amenities; each resident is given a luxurious room with a bedroom, living space, fully stocked kitchen and bathroom . Each room is a little bit different from the next, and many rooms have a balcony or deck with a table and chairs for enjoying the fresh air.
You don't need money here! Planes don't fly overhead, phones don't ring, the stars are different from what one might be used to. It is peaceful and calm here…most of the time. For the intrepid explorer, there might be discoveries to be made; secret passages found, adventures to be had, mysteries to be solved… what more could you want?
You want to be able to leave, you say? Well, that is something you will have to take up with The Manager. Just fill out any questions or requests on the paper provided by the brass tube at the reception desk, put it in the capsule, and put the capsule in the tube. Your missive will be whisked away, and an answer returned to you in no time at all! Isn't that easy?
Try leaving without permission, though, and you will find that all roads lead back to Here, and the Residence. Enjoy your stay!